Summer Twilight Festival at Sands End Arts & Community Centre
2 months ago
SEACC is serving up a musical treat for the end of the summer holidays – and everyone's invited!
Following the success of their show earlier this year, we're very pleased to be inviting back Sherry Music for what will be an even bigger must-see event –  the Summer Twilight Music Festival.
Taking place across the weekend of the 1st – 3rd September, the festival will showcase a range of events and activities for all the family to enjoy.
All events are free unless otherwise stated.
2:30pm Friday 1st September: Masterclass with Mark Messenger (Head of Strings, Royal College of Music)
Three talented young violinists, and a group of young chamber musicians, will be given the opportunity to present their performance, then receive feedback and coaching from Mark Messenger. Come and see how music education propels young talents to the professional level!
7pm Friday 1st September: Twilight Chamber Music Concert
Chamber music – sometimes called "the music of friends" – requires a small number of performers with one player for each part (unlike an orchestra), small enough to play in a lounge or salon. The repertoire will range from baroque to movies, from Bach to Mission Impossible, and feature piano, strings and woodwind, performed by talented youngsters coached by professional musicians.
7pm Saturday 2nd September: Twilight Jazz Music Night with the Salisbury Hot Club
(£5 per ticket)
Gypsy Jazz – sometimes called "Hot-Club" – originated in France, with the two-fingered guitar of Django Reinhardt and the swing violin of Stephane Grapelli. The Salisbury Hot Club is a band of young professional musicians from the Guildhall who will take you for a swing through the joyous clubland of Paris between the wars.
10am Sunday 3rd September: Community Music Workshop
Come and experience the world of classical music at Sands End Arts & Community Centre. Get a taste of what it's like to be a professional musician and learn more about the music and the history. Talk to musicians, see them close-up… Never held a violin? Try it for yourself!
3pm Sunday 3rd September: Final concert – "The World of Music"
The culminating highlight of the Twilight Music Festival will be the final concert performance, featuring Music from Around the World. Come and enjoy the children's chamber groups and strings orchestra, joined by professional musicians and playing pieces from Britain, Germany, France, Russia, China, the Middle East, South America and Africa.
For booking information, please visit https://www.ticketsource.co.uk/sherryshen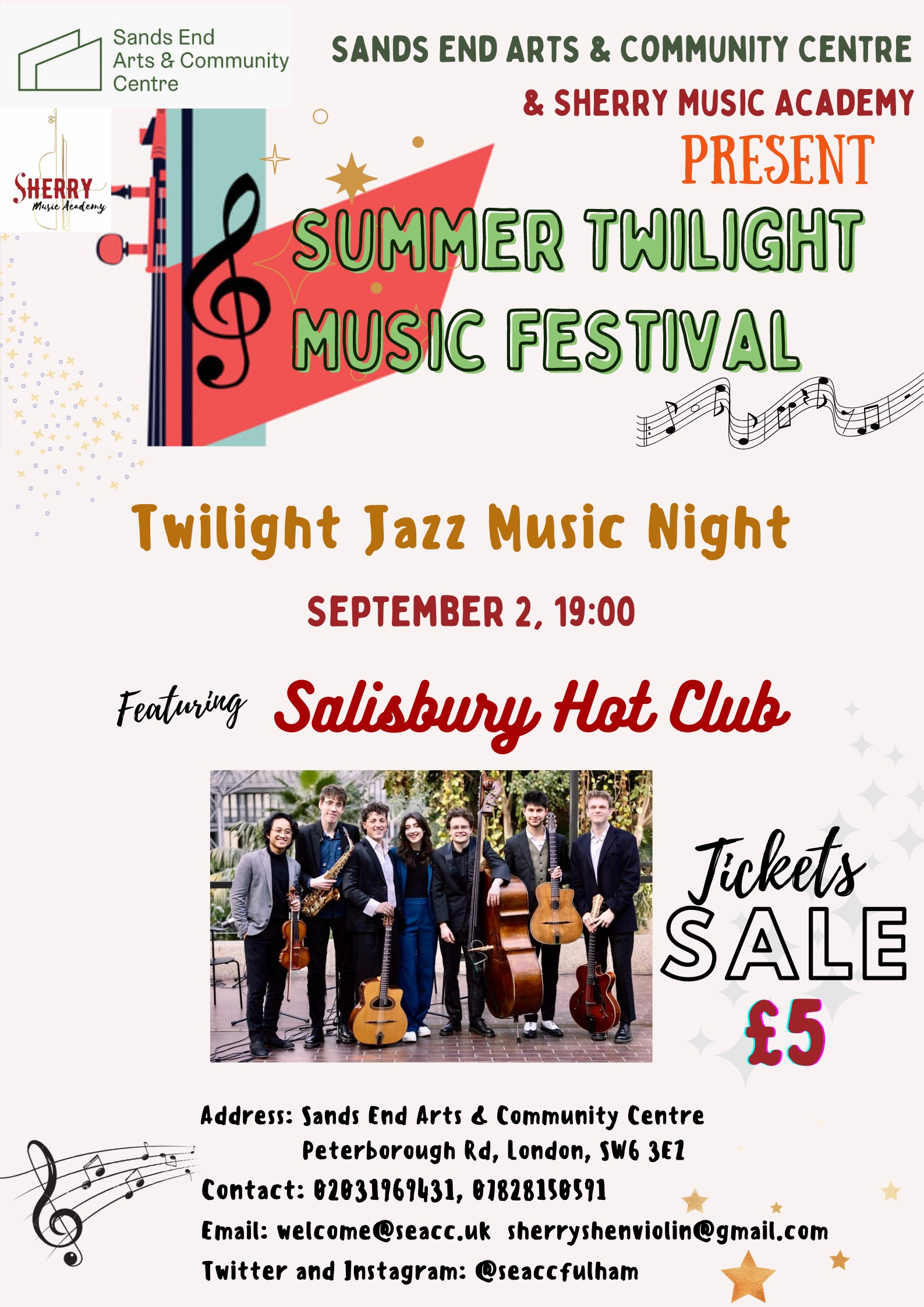 Sherry Music Academy
Founded in 2021, the Academy's mission is to create performance opportunities for talented young violinists and chamber musicians. Our philosophy is that performance is the ultimate goal of both composers and musicians, and provides the "special experience" which motivates young learners to achieve their full potential.
Sherry Shen, Leader
Sherry Shen was born in China, and performed in Beijing, Shanghai, Hong Kong and Singapore with the Jiang Zha Gang Chinese Opera before completing her Master of Performance degree at the Royal College of Music. In addition to creating and managing the Sherry Music Academy, Sherry is a solo violinist, a passionate chamber player, and a film and recording artist, appearing regularly with the London City Philharmonic, the London Film Music Orchestra, and the London Firebird Orchestra